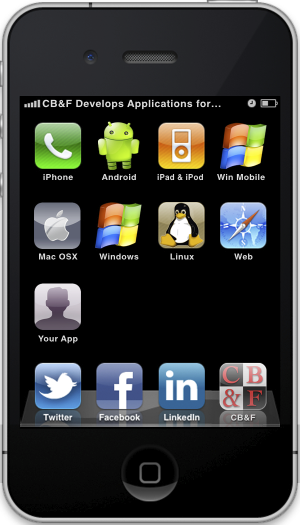 I know mobile.
I've developed apps for smartphones and tablets, often paired with companion desktop software. My unusual mobile development tools make for robust and efficient cross-platform projects. My expertise in user experience design and user interface design, along with software architecture, tech innovation, and beautiful graphic design will help your project stand out in a crowded field.
That makes for 3 key advantages:
I publish everywhere: Not just iOS (iPhone, iPad, iPod), but Android, Mac OS, Windows, Linux, web servers, ebooks, interactive exhibits… from one set of code. This increases your market penetration, opens up more income streams, helps cost efficiencies, and builds user networks faster.
I work faster: 30 percent faster by published studies of my toolset, regularly saving 2 months or more on typical projects. This means your app gets to market sooner, can cost less to develop, and follow up versions can be published faster.
I have experience: years of UX UI design, software development, and marketing has won awards, put my name on patents, and helped me serve clients like BMW, Disney, Televisa and Pillsbury. This helps increase the quality of your app and reduce your risk.
Contact me to discuss your app development project today!